The Gaonim and great Rabbanim of Israel and France recommend to support Tsidkat Eliaou
Tsidkat-Eliaou is fortunate to count the Gaonim and Tsadikim from France and Israel among its warmest supporters. We are particularly proud of their valuable supports which give us great hope and help us to fulfill our daily actions with the most vulnerable and most needy.
Face with some situations that we encounter – often hopeless cases – we sometimes wonder how we will help these people. But we continue, with G-d's help, to accomplish our missions. So, when we receive support from such luminaries of the Torah world, we can only rejoice at making much more Tzedakah. You too, come to associate yourself with this wonderful mitzvah and be blessed in all your actions, AMEN..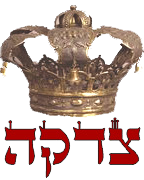 MARANE RICHON LETSION RAV OVADIA YOSSEF ZATSAL
« I join myself with all my heart and all my soul to the success of the above (current actions and projects), and I wish that all of this contributes to developing and glorifying the TORAH, in wealth, honor and all the better (vekol touv). »
MARANE RICHON LETSION RAV MORDEKHAI ELIAHOU ZATSAL
« It is a great mitzvah to support and help with generosity. May "The All Powerful" carry out all the donors and benefactors desires and shall they be overwhelmed with goods and blessings, in joy, wealth, happiness and good health. Amen, so be it. »
The two great Ashkenaz and Sefard Rabbis of Israel
MARANE RICHON LETSION
RAV SHLOMO AMAR CHLITA
« I ask affectionately to our dear brothers to support Tsidkat-Eliaou with dedication and kindness, and help it with great generosity. All donors and benefactors will be blessed with all the blessings written in our holy TORAH. Amen »
RAV YONA METZGER CHLITA


« I speak directly to my dear brothers, in a holy calling to help and support Tsidkat-Eliaou … By the great merit of this mitzvah and the great tzaddikim merit, all donors will be blessed and will deserve to see the rebuilding of our Holy Temple Amen. »
FORMER CHIEF RABBI OF FRANCE RAV GILLES BERNHEIM CHLITA

« The Tsidkat Eliaou's mission is vital for many people who are living thanks to the support of this association. I wish that Tsidkat-Eliaou would follow its mission because their assistance is essential for all those families who need it to survive in Jerusalem. May the merit of this mitzvah be a source of blessings for you and all your beloved ones. »
RABBI YOSSEF
HAIM SITRUK CHLITA
« I encourage each of you to participate generously in supporting this Tsidkat-Eliaou noble action. That the merit of this Mitzva of Tsedaka be a source of blessing for all those who make their generous contribution…Amen. »
MARANE HAGAON HAGADOL RAV AARON LEIB STEINMAN CHLITA

« I agree with all the recommendations of the Chief Rabbi from France »
RABBI DAVID
ABOUHATSIRA CHLITA
« I give my full support, encouragements and blessings, whole heartedly, for the great success of Tsidkat Eliaou… I give my blessings to all of those who will help and support Tsidkat-Eliaou association »
RABBI DAVID
HANANIA PINTO CHLITA

« By the merit of my ancestor – The holy venerable Rabbi Haim Pinto – I will pronounce the appropriate blessings for everyone and their family for their health, their serenity and their parnassa. Amen. »
RAV SHMOUEL
MELLOUL CHLITA

« It's a privilege for all of us to support the Tsidkat-Eliaou Tzedakah fund and to support it in this noble project of helping the most deprived people. »
RAV YOEL
WERTENSCHLAG CHLITA

« I would like to express all my admiration for the remarkable work done by Tsidkat-Eliaou… All those who respond to this "call for help, will be blessed in all their actions! »