Tzadik E.Amsellem
Who was the tzadik Rabbi Eliaou AMSELLEM FROM BENI-OUNIF (ALGERIA)?
Born around 1875 in Figuig (Morocco), the Tzadik spent his entire life in Beni Ounif where he was the Jewish community leader during the years 1915/20. Besides, he was an important trader respected by everyone, a very generous man, fundamentally good; his generosities and his large heart profited to all the people of the community. He was a real Tzadik – literally meaning – with exceptional leader skills. As he was very proud of the Beni Ounif community, he was devoted to her and made it very well known.
A live devoted to Hessed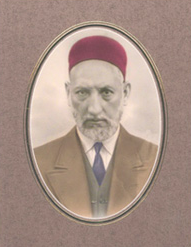 The Tzadik Rabbi Eliaou AMSELLEM zatsal
Among his many qualities, the Tzadik was motivated by a deep commitment to Hashem throughout his life. We will name over here only those qualities mentioned in the Mishna and that he practiced with great "hidour Mitzvah" (embellishment of the Mitzvah).
As we repeat it every morning in the "shaharit" prayer, those "midot" (qualities) are of prime importance: "and here are the mitzvot whose fulfilment provides man with results in this world, and which capital is reserved for the future world".
First of all respect, honour and filial piety. Hospitality towards everyone, whether it is rabbis or ordinary people, was among his priorities and values. He hosted his guests with friendliness and a lot of kindliness, from their arrival to their departure and he always walked them back personally. In that way, his own house and adjoining room became the "Beni-ounif Beth Orchim" (guest house), in order to host (for lodging and food) many visitors (rabbis or ordinary people but always respectful of the Torah values).
Like AHARON HACOHEN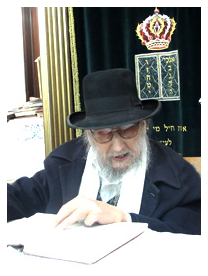 Following Aharon HaCohen example "Ohev shalom ve rodef shalom, with a total abnegation of his own person, he did everything to get the "shalom" (peace) between couples and between neighbours. He invited people who had a disagreement and used his good influence to restore confidence and warmth with themselves. His great preparedness and his outstanding assiduity, at the Synagogue, had a salutary influence on all faithful who prayed with him. Despite his extremely busy schedule, he always found enough time to perform the mitzvah of Bikur Cholim (visiting sick people) and was available to those who solicited him.
Generous as he was, he dedicated a full thoughtfulness for tzedaka that he practiced every day, among many acts of charity, as Gumilut Chassadim. He received many Yeshivas' representatives – especially from Eretz Israel around the years 1920/1930/1940 – who came to collect funds for their Yeshivot. Note also that the Tzadik had a deep attachment to the land of Israel and he was one of the first inscribed on the KKL VIP visitor's book.
A Holy place

His house was a holy place where he had the honour of receiving great Rabbanim, and illustrious tzadikim, venerable masters such as:

Rabbi ITSHAK ABIH'SSIRA the youngest son of our master admour Rabbi YAAKOV ABIH'SSIRA zatsal
Rabbi DAVID ABIH'SSIRA (Hatereth Roshenu) Sidna BABA SALE big brother
Sidna BABA HAKI BABA SALE brother
Rabbi ABBA ABIH'SSIRA son of Rabbi ITSHAK ABIH'SSIRA aforementioned
Admourim Rabbi CHALOM ABIH'SSIRA, BABA SALE son of rabbi AHARON ABIH'SSIRA and Rabbi YOSSEF ABIH'SSIRA of Colomb-Bechar
Rabbi MAKHLOUF ABIH'SSIRA one of the major Marrakesh dayanim
In this context he also received often, from his early age and for a long period of time, Rabbi ISRAEL ABIH'SSIRA who is better known as Sidna BABA SALE. Rabbi Eliaou AMSELLEM zatsal, who led the synagogue of the "Beni Ounif community", asked one of his young sons – rabbi NISSIM – a young rabbi, to answer to all necessary services to the community. At the same time, Rabbi NISSIM was coming from the Yeshiva of Tafilalet, where he was trained by the illustrious descendants of Rabbi YAACOV ABIH'SSIRA : Sidna BABA SALE and his holy and revered son, RABBI MEIR ABIH'SSIRA (BABA MEIR).
Rav NISSIM AMSELLEM zatsal and SIDNA BABA SALE zatsal
Rav NISSIM AMSELLEM was joined, a few years later, by his younger brother, Rabbi SHALOM chalita, who graduated the same school and added to the importance of the community and to its chairman Rabbi ELIAOU AMSELLEM zatsal. The spread of their prestige covered all this region, attracting every kind of key figure from different world places, including kolalim* from Eretz Israel, where lived another brother who became a teacher in a Mea Shearim yeshiva in Jerusalem.
Perpetuate his work
Tomb of revered tzaddik Rabbi Eliaou AMSELLEM zatsal in Casablancaa
The tzadik passed away, on December 1952, in Casablanca. But "the tree of life" of Tzadik Rabbi ELIAOU AMSELLEM zatsal continues to grow through his descendants. These worthy heirs his sons, grandchildren and great-grandchildren-, are continuing his good works since a long time. They recently created the organization "Tsidkat Eliaou" to help the very poor people, adding to the greatness of the Tzadik, his "zekhout" which is always present. May his merit protect all of us and "Bnei Israel"- forever – until the arrival of the MASHIAH our redeemer. Amen